0
|
|
302
|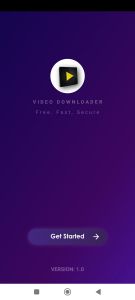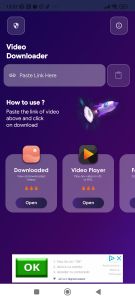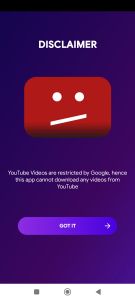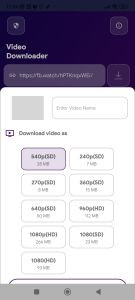 Description of Videoder
What is Videoder?
YouTube contains the largest amount of audiovisual content on the planet, a collection that grows with each passing day. If you have ever wanted to download any video from this or any other platform, now you have the opportunity with Videoder, an App specialised in downloading videos.
Videoder has a simple and intuitive interface, which provides you with all the options in an orderly fashion. The first thing you will see is a space where you can paste the link of the video you want to download, or you can also type its title. Once you see the results, select the one you want and you will be able to play it from the application.
At the bottom of the video you are playing, you will see a series of different options. You can indicate whether you like it or not, save it to watch it later and finally, download it. As you might expect, you need WiFi or mobile data connectivity to be able to download all the videos to your tablet or smartphone.
When you click on the download option, you will see different options, these are related to the resolution and format of the video. You can download them in 480p, 720p, 1080p and even 4K resolution, in HD to appreciate every detail of the scenes. You can also download them in AVI, MOV, MP4, FLV and 3GP formats, among others.
Videos from any platform, available offline
Videoder is all about getting your own collection of your favourite videos, downloaded to your device to watch whenever you want. That's why Videoder not only supports YouTube, but also other websites and social networks. There are an infinite number of sources of free entertainment that you can tap into.
On the Videoder home screen, below the search bar you have 5 shortcuts. YouTube, Instagram, Tik Tok, Facebook and SoundCloud. By clicking on any option, you can browse until you find the video you want to download. Videoder clones all the platforms identically, so you can use each one without any problems.
Besides, you have a small arrow that indicates that there are more compatible sites, such as Vimeo, VK, DailyMotion, Twitter and others. This extends the possibilities for you to download free content to your smartphone. Once the download is complete, you can watch your videos without interruption of any kind.
Videoder offers you the opportunity to use the same free App as a player, you can access your videos from the download section. They will also appear in your gallery. You even have the unique feature of playing the video in the background while using other applications.
Much more than just videos
With this extension for social networks and content platforms, you can not only download series, films and games to your computer, but you can also download music. It works in a simple way, because when you click on download, you only have to choose the MP3 format option, thus, you will increase your music catalogue. Videoder also includes the following:
Download manager, with the ability to download multiple videos simultaneously from the App.
Popular video categories on the home screen, with suggestions for news, sports, entertainment and more.
Video sharing feature, to send videos to your contacts quickly without leaving Videoder.
In the latest version of Videoder, it allows you to edit the name of the file you want to download to your mobile.
Requires iOS 12.0 onwards or Android 2.1 as operating system to install Videoder on the device.
Now you can start watching all kinds of shows and broadcasts offline on your mobile using Videoder. You can find the latest version in this AppMarket, for immediate download.
More info
Package Name
com.rahul.videoderbeta
Requirements
Android 5.0+