5
|
|
5
|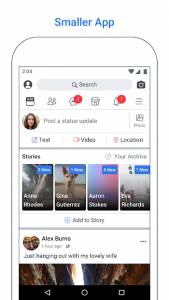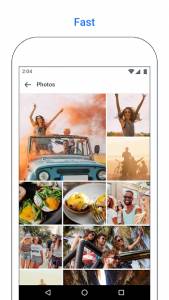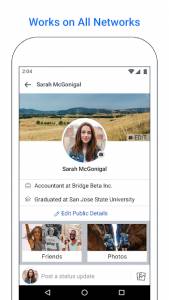 Description of Facebook Lite
What's Facebook Lite?
Facebook Lite is a mobile app that is featured by being lighter and providing a connection to everyone's favorite social network. It is designed for older Android versions devices with low capacity and slow internet connections.
Connecting with friends and family is now very easy since this app takes up less space on your device and includes features services similar to the official one. It has a very intuitive interface, which is easy to use. This wonderful app connects to the internet even with 2G network. Facebook Lite allows communication with a minimum of mobile data.
It is a secure alternative to the usual Facebook client, providing access to instant messaging, photo posting, changing profiles, and receiving real-time notifications. It also helps track business accounts, social events, and sales on Facebook Marketplace.
Another outstanding feature of this app is that users may post status updates and use images to share what's going on in the world. To start taking advantage of its features, download this app in its latest version from our AppMarket.
Access Facebook in a light and fast app
Undoubtedly, the most outstanding feature of Facebook Lite is its fast internet connection, even with low-end computers or non-current iOS or Android operating systems. It is the perfect solution for those people who do not have a good Internet connection because they are in remote areas.
To enter, you only have to put the email account you use in the web version and the password. After logging in, you can review all your friends' activities, share, comment, and send messages to stay connected all the time.
The app also works as a personal organizer to store, save, and share photos to lighten your computer's storage. It facilitates the creation of secret image albums where you can establish who sees them and who does not, controlling everything that is published on the social network.
Another feature you can take advantage of is to get real-time notifications of activities that are executed according to your interests. Events, news, updates, offers, subscriptions, brands, or sites can be monitored from the comfort of your mobile device.
Save space and data without losing communication
Facebook Lite takes up only 250 KBs when installed on your device, so it is considered 100% lighter than the official app. Furthermore, as it is designed for 2G networks, it consumes half the data of the original one, which works with 4G. These are other desirable features of this app:
The original version weighs about 150 MB, unlike Facebook Lite which weighs less than 1 MB without signing up.
It works on all Smartphones regardless of brand or year of manufacture.
You can activate parental control to track the activity of children and teenagers without draining the storage of the mobile device. The notification system of this app is amazing.
It is extremely simple to use, it takes full advantage of the cell phone storage and internet connection data. Best of all, it does not require an additional app for instant messaging.
As for the design, it is similar to the original version but simpler.
In conclusion, Facebook Lite means saving and simplicity. It is an app that offers speed, simplicity, and the same quality as the original app in its latest version. Download it now and don't miss the latest posts from your friends!
More info
Package Name
com.facebook.lite
Requirements
Android 5.0+
Older versions
332.0.0.17.108
04-12-2022
330.0.0.10.108
22-11-2022