5
|
|
986
|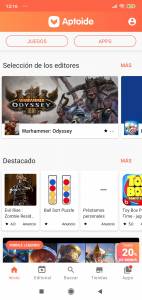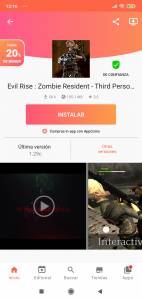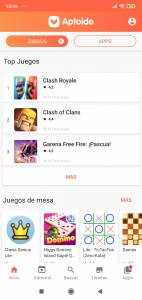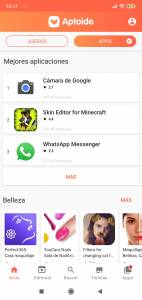 Description of Aptoide
What is Aptoide?
It's a platform or APK designed to download applications for Android systems. It stands out for its versatility, attractiveness, simplicity, security and the best thing is that you can install what you need without registering.
Likewise, it gives you the opportunity to create your own App and process its operations from its system. As well as share Apps that are not easily found or free of charge.
Aptoide has a friendly interface, ready to be used without complications. Also, it's organized by categories, download tops, tools and future updates. You will not be in danger by downloading it. It's completely legal, it's a different alternative for Android and you can download the latest version from our AppMarket.
Also, it is easy to use because it only requires simple steps for installation. First, go to the main page of Aptoide, go to the stores section, click the plus sign button, select the Apk, and you are ready to use it.
Unfortunately, it isn't available for iOS yet, so we should wait for future updates.
Download as many applications as you want
Aptoide makes it possible for you to access to new applications, or previous versions if the new update doesn't meet your expectations. Therefore, you just have to place the desired version of the Apk in the search manager and that's it. In addition, it's an open source that allows you to enjoy the most outstanding Apps.
Additionally, you can have the App stores that you like since it does not generate any conflict on your device. Of course, it's worth checking the font when you go to download and install whatever font it is. Also, your mobile will not slow down since it only occupies a space of 16.3 MB, and if you want something lighter then you have the option of the Aptoide Lite version.
In addition, among its most outstanding functions, we can find that its menu includes stores that have been created by users within this same community. Being registered is not a requirement, you can download without being registered but if you do, you have additional benefits.
Likewise, with this application you can update your mobile software, even those of the operating system itself, without having to wait for it. Also, you have the option to search for specific tools according to the model of your device.
Aptoide highlights
With this avant-garde App you can enjoy the following benefits:
Obtain apps that are not easily accessible on other platforms or that are paid.
Have fun with a revolutionary App that has thousands of applications and continues to rediscover more.
It has options to create your own store with name and logo, in case you are a web developer.
It allows you to share millions of Apk without an internet connection.
You can follow other users, and they can follow you back. It also has the option of a private profile.
It offers you the original Aptoide App timeline, so you can see the most outstanding Apps.
Unlimited free downloads, without having to register.
It has a legal basis, which gives you security.
Intuitive, dynamic and user-friendly interface.
Notifies you about available updates of your installed applications.
It has an option to go back to a previous version if you aren't satisfied with that particular update, a feature that other platforms don't allow you to do.
It has a lite version that offers absolute speed.
It also has the most recognized apps and games on the market for free.
In short, you already know what you need to download Aptoide and safely enjoy everything it offers, Apk, games, tools and everything. Don't stop being part of its global community.
More info
Requirements
Android 5.0+