0
|
|
327
|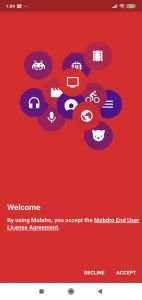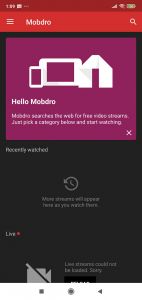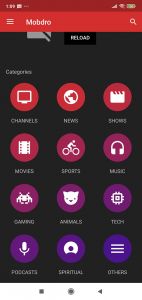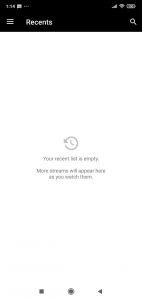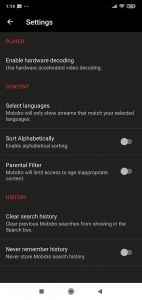 Description of Mobdro
What is Mobdro?
It is a free application for Android devices that allows you to have access to different TV channels and streaming videos in order to entertain and amuse its users. Modbro has a wide variety of channels in different categories.
Modbro is one of the most complete platforms in terms of available channels, which makes it the best option if you want to have at your hands and efficient services that takes you out of the routine.
One of the particularities of Modbro is its easy handling, it has a design created so that any user can use it easily without complications or confusion. At the same time, unlike other similar applications Modbro is 100% free of ads that can be annoying for many people.
In addition, this fabulous application can be used on any Android device, even on your Smart TV with Android TV operating system. You just have to download it to the PC, save it in a pendrive and then run and install it.
However, not everything is so positive, since Mobdro doesn't offer options to change the image quality. That is to say, the videos are in a predetermined resolution for each one.
Channels of different categories in different languages
This is a very complete App and you will never get tired of it, since it offers a wide variety of content, of different categories and languages. You will be able to enjoy the most entertaining and interesting series and movies of the theme of your choice.
It offers the possibility of keeping you informed about what is happening in the world today, since it has international news channels, which will allow you to be up date with any type of events.
On the other hand, it brings with it the option to watch videos in streaming. So with Mobdro you can watch music and comedy videos, recipes, pets and a variety of other content you want anytime, anywhere.
If you are a sports fan, Mobdro also guarantees you both channels and videos of this type. You can enjoy the Soccer World Cup, MLB, NBA games, the Olympic games, or any sport.
In addition, the application will automatically create a preference list of channels, languages and categories according to your searches. However, you can easily access it from the home screen.
Record, download and share your favorite content
When thinking about the busy lives of today's users, Mobdro offers you different options to watch your favorite programs at any time. In this way, organize your time and don't miss anything.
If you want to watch the last episode of your favorite TV series, or some soccer game, but you have a commitment at the moment, you have the option to record so that you can enjoy the TV program later. Also, it allows you to download content such as series, movies or music videos to watch them offline, ideal if your internet access fails at any moment.
On the other hand, if what you want is to interact with other people, with this App you can share in all your social networks any video that you like and want friends or family can also enjoy.
In summary, remember that Mobdro is a completely free application, so don't wait anymore, download it now and enjoy all the content it brings to you.
More info
Package Name
com.mobdro.android
Requirements
Android 5.0+