0
|
|
12
|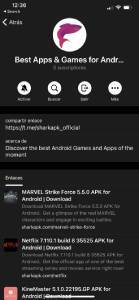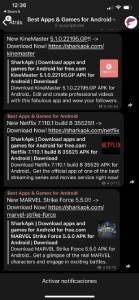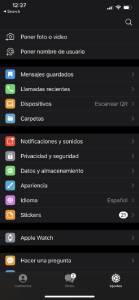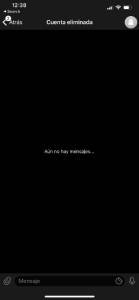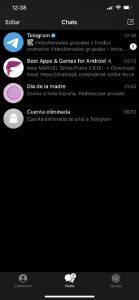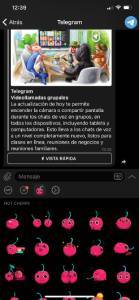 Description of Telegram
What is Telegram?
Telegram is an excellent messaging application that allows you to establish communication with all your friends who are part of it. It stands out for its simple interface and maximum privacy in its functions.
This application is available for iOS and Android, it has the basic functions of the messaging system such as individual and group chat, sending and receiving of photos and videos. It is very fast to execute its services, since it works with a unique network that maintains the contact between its users.
This application also synchronizes with all your devices, allowing you to log in anywhere with just typing a code. In addition, the conversations with your contacts are encrypted, that is to say, they are not stored on the app's servers.
The best of all is that you can already install its latest version from our AppMarket, with all the news it includes this year. Without a doubt, Telegram is the messaging app par excellence.
Communicate with your friends without limits
Telegram is a free, secure and very fast App that you can use on several mobile devices at the same time. They are autonomous sessions, that is to say, it is not necessary to have the cell phone nearby.
One of its main attractions is its privacy levels, unlike others, the app does not record your conversations. It has a self-destruct function of messages, in just 10 seconds you can delete a certain chat and there will be no trace in the app or the option to restore it.
In addition, the application works with an open source code, totally free, capable of executing diverse functions. For example, it allows you to send and receive multimedia files regardless of the size. All conversations are saved in the app's cloud and not on your device, ensuring that it will not crash.
This app also gives you the option to create groups with a maximum of 200.000 members, with which you can share any file. You will be able to configure bots to take care of certain tasks from your mobile. Apart from this, it has basic photo and video editing functions with its wide collection of stickers, themes and emojis.
Moreover, its most updated version allows you to manage emojis as you prefer and you will receive recommendations of which one to use based on the words you use. Another new feature is the possibility of deleting messages for both contacts in private chats. You have the option to establish the automatic or manual downloads, depending on the type of chat and file.
On the other hand, it gives you the possibility to play clips without downloading them, activating or deactivating the audio directly in the chat.
The best messaging application on your mobile
It is clear that this App offers unique, unprecedented, easy-to-use functions. It lacks advertising and gives you support for using your account on multiple devices, with independent operation. In addition, it allows you to log out of any of these from your main device in seconds.
Other striking features are:
Versatile messaging application with basic functions, sending messages and multimedia files, regardless of size.
Option to create large or small conversational groups.
It consists of channels or spaces other than groups where information is offered to a larger number of people.
Allows you to create an original username.
Self-destruction function of chats, in 10 seconds this action is executed.
It has bots or softwares that perform tasks for you over the network.
Extensive collection of stickers, emojis and emoticons to personalize messages.
Finally, Telegram is a messaging application with updated features that distinguish it from others like it. It is fast, secure and supports large files.
More info
Package Name
org.telegram.messenger
Requirements
Android 5.0+