0
|
|
53
|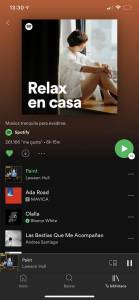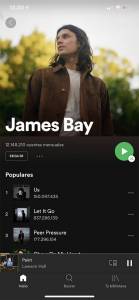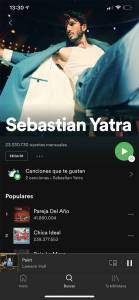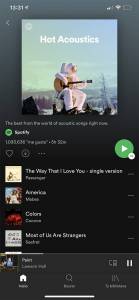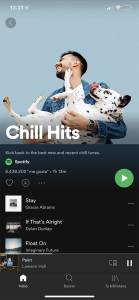 Description of Spotify
What is Spotify?
It is a streaming music and podcast application, you can play and listen to your favorite music with no need to download it. It has an extensive portfolio where you will find millions of songs that you can choose according to the occasion.
The Spotify App is now more accessible because it is free to download and super easy to use. With the option to listen to both your music as well as other users' and the one recommended by Spotify online. 
Likewise, you can create your own playlists and have all the music you want at your fingertips. A positive aspect of this new modality is the fact of having music on your devices and not resorting to dubious sources to obtain them.
The App gives you the advantages of listening to music for free in exchange for watching ads or paying comfortable monthly fees. Therefore, you will also be supporting your favorite artists while combating illegal MP downloading.
In addition, getting the Spotify App with this system is simple, you just have to download it. As well as, accessing their entire online portfolio, you have over 40 million songs to never repeat a single one. And if you become a Premium user, one of the advantages is to enjoy offline programming.
What makes Spotify attractive?
Honestly, to be able to listen to music always and legally at any moment. As well as, it allows you to listen to the music stored on your device.
Additionally, you can create your own playlists with the songs of your preference. How to do it? Simple, follow these simple steps, from the App's library click on create, put the chosen name, include all the songs and that's it. Well organized your playlists to take with you and listen anywhere.
You also have the option to save data without stopping listening to music, just go to settings and click on save data. As well as, listen to music in shuffle mode or just from your playlists if you wish.
In addition, it has an excellent player and sound that you can read its features from the Spotify developers platform. Likewise, you can play music on Android, IOS, PC devices that have web Playback and each operating system has its own Spotify icon assigned.
You can download and install Spotify without complications and safely from our AppMarket. You only need to have enough space since it weighs 33,4Mb.
Spotify highlights
Spotify is easy to access and use, there are no difficulties to search for music. It has support and customer service for any doubt you may have.
It has a community of people who have been with Spotify for years with whom you can interact by sharing their playlists. In addition, the following are highlighted:
A vast catalog of more than 40 million songs.
You can create your own playlists, the ones you want and according to the artists you like.
If you still don't know what to listen to or want something new, Spotify surprises you with tasteful recommendations.
Spotify is now free to download and you can listen to music without limits.
You have extra features if you upgrade to the paid version, as for this, the monthly fee is not high.
Its developers are constantly reviewing the App which provides security to your device.
Share content with your friends and other users.
Transfer playlists from one device to another that you own via Wi-Fi.
In the Premium version you can listen to all the music you want offline.
In conclusion, Spotify is undoubtedly an incredible App to listen to music via streaming, a lifetime would not be enough to enjoy all its content.
More info
Package Name
com.spotify.music
Requirements
Android 5.0+