4
|
|
4.9 K
|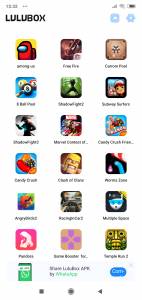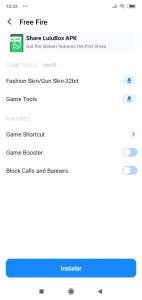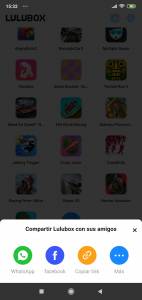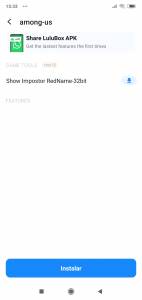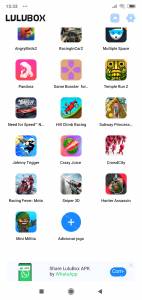 Description of LuluBox
What's LuluBox?
LuluBox is an app for Android devices that is used to modify or alter games.  It is also known as patching. By downloading and installing this tool on your mobile, you can access a wide range of patches that are applied to installed games. It allows you to achieve improvements or benefits.
It is a tool that not only modifies the game but also achieves an improved experience in different functions of the game. Usually, you get an increase in coins, speed, greater invincibility, lives, score, and so on.
It has a very simple and intuitive interface that allows access to a home. There you will find all the games. Once inside, it is possible to select the kind of modification you want. Undoubtedly, it is very easy to use. A free app that all gamers will love!
If you like to win in all games, this is the app you were waiting for. Although it still has some games to patch.  With each update, LuluBox includes mods that provide the opportunity to get the game you want.
Extend the experience of playing on Android!
LuluBox enhances the Android gaming experience! By simply installing this app, you can access tricks that improve the way you play and increase your chances of winning. All you have to do is download the latest version from our AppMarket.
Then, access the game you want to modify from LuluBox, and once inside the card, select the type of modification you want to achieve. You will be able to see the available options in a list. A download arrow appears on one side. Immediately, the necessary patches are installed and will be visible in the game.
If you don't know what the patch is, you can see the description of it to discover the improvements and advantages it brings. Best of all, you will be able to add more apps and games to its interface to modify them according to the user's tastes.
You can modify games such as Subway Surfers, Carrom Pool, 8-ball pool, Candy Crush, PUGB Mobile, Temple Run 2, among others. The options to modify go from the graphic, resolution, speed, style, etc.
Endless coins, more lives, free skin, and better quality of play
This app is designed to make subtle alterations to the games and enjoy them to the fullest. You can download skins for free for further customization of the environment and characters. Also, it stands out for the following features:
The application does not hide secrets, everything is available to make the alterations without complications.
Apply touches, modify the environment, unlock characters, get more weapons, and enhance the experience of playing the game as usual. Remember to be very careful when applying the modifications to not be banned.
It is very easy to use the patch. You don't have to be an expert to start modifying your favorite games.
It is available for Android version 4.4 or higher.
With LuluBox, you get the game you wish the most! It's the ultimate tool to achieve the functions you want in your favorite game. With just a few steps, disable notifications, achieve coins, lives, speed, and invincibility. The fun doesn't stop there.
More info
Package Name
com.lulu.lulubox
Requirements
Android 5.0+