0
|
|
14
|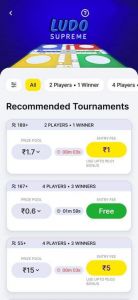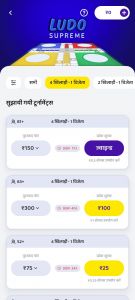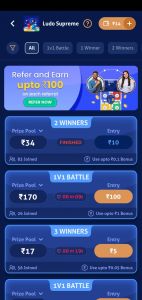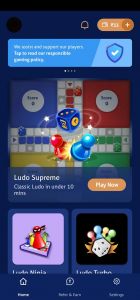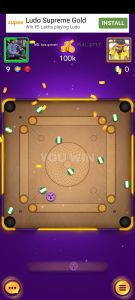 Description of Ludo Supreme
What is Ludo Supreme?
Ludo Supreme is a version of Parcheesi adapted for Android or iOS mobile devices. This entertaining game promises to reward players with real money, but this depends on the country you live in. Otherwise, it allows you to enjoy a classic board game from the comfort of your mobile device.
To start playing you need to register, for which you will need to create an account using your email address. Once you have done so, you will have the opportunity to play against artificial intelligence or against real opponents. This second option requires a stable internet connection, as the games are in real time.
The rules of the game are the ones you have known since you were a child, the goal is to take your 4 pieces and put them in your house, for which you have to go all over the board. It will be possible to eat other tiles if you land on the same space as them, returning them to the starting point. You can also be eaten by other players, so it involves a bit of luck.
Toget out of your square you need to roll a 6 as soon as possible, only then will you start the round. The die is rolled at the press of a button and falls completely randomly, so the odds are the same for all players.
Games with friends or strangers
In Ludo Supreme you have the opportunity to create a private game, with a special code that you can share with friends and family. Your contacts will have to open the application and go to the section that says: Join a room. There they will have to paste the code you sent them and enter. Games can be with 2, 3 or 4 participants.
Another attractive feature is that you can play with random opponents to measure your ludo skills. But the best feature is the tournaments, which give rewards to the 1st, 2nd or 3rd place finishers. These Ludo Supreme rewards are in real money, which is good for those who want additional income.
In case you intend to join a tournament, you need to keep an eye on the time, as these are held at specific times. If you enter late, you will not be able to join the room and participate and your seat will be given to another user. Some real money prizes come from participants' bets.
At Ludo Supreme you will have a wallet, to which you can load money via various payment methods, but this is optional. To earn points that allow you to enter online games, you can also watch advertisements or complete objectives. It is possible to earn points through the victories you achieve as well.
Experience Ludo like never before!
By downloading this fun game you can polish your parcheesi skills, become an expert and earn money. There are clear guides and instructions to get you started and the option to create your own games. In addition, Ludo Supreme includes the following:
Create an in-game profile, in which you can add a profile picture and player name.
Statistics of your wins, losses and stakes available in your Ludo Supreme profile.
Downloadable on devices with iOS 10.0 and above or on mobile phones with Android 4.4 or higher.
Friendly and easy to use interface, with different settings to customise your experience.
Get the latest version of Ludo Supreme for free through our AppMarket, accumulate victories playing Ludo! Only then you will become a true champion and enjoy the benefits.
More info
Package Name
in.ludo.supreme
Requirements
Android 5.0+