5
|
|
157
|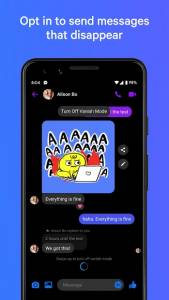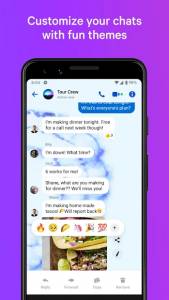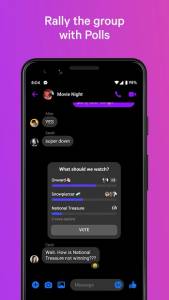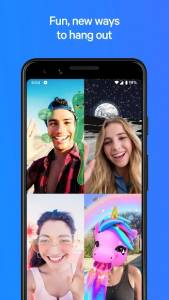 Description of Facebook Messenger
What's Facebook Messenger?
Facebook Messenger is an instant messaging app designed for social network Facebook. It is considered one of the most complete in its field because it has the option of sending messages to friends who also have this app installed on their Android devices.
The most popular social network of all the time has its messaging system designed for users to communicate with each other. It is a multiplatform service that can be downloaded for free on iOS and Android operating systems, and even on Windows and Mac or other desktop environments.
The basic function of the mobile application when installing the latest version is to receive, send messages, emojis, and images. However, it also works to share location, animations, stickers, and voice notes. In addition, you can create groups of two or three people for group conversations and fun chats.
On the other hand, the option to make free calls and video calls to registered users is highlighted. The evolution in this alternative has been outstanding, it can be compared to social networks like WhatsApp, and even with the fluidity that has a conventional call.
Send individual and group messages easily
At the beginning, the Facebook Messenger app was designed to send individual messages or have a group conversation. However, with each update, it is now possible to enjoy communication with people registered in the phonebook or just by entering the phone number.
It has an intuitive, simple, and easy-to-learn interface. Just download the app from our AppMarket. It will automatically connect to your Facebook account when you log in. If you don't have a social network account, you can log in with the phone number.
To send messages, activate the app, and select the contact you want to talk to. You can draw, send stickers, emoticons, gifts, and take advantage of all the tools available in the panel under the plus (+) symbol. You can include pictures and voice messages of less than a minute.
To make a video call, click on the icon at the top right of the chat and wait for a response. Other functions that can be accessed are the creation of groups, knowing when a person reads the message, event notifications, location sharing, taking pictures, and video sharing, among many others.
Share photos, videos, and more with your friends!
The main feature of Facebook Messenger is that you can communicate all the time. As it has been updated, it has stopped being a basic system to become the most complete one at the moment. Thanks to this, it is possible to enjoy it:
Sending messages to groups or individuals, sharing photos and videos with whomever you choose.
Although the options are a little limited, it allows access to the integrated games for fun without having to exit the app and or install anything.
It is now possible to send documents, see who is online, and create direct access to favorite conversations.
Forwarding information, images, or documents to people who are late in the conversation.
You can activate the excellent notification system so that you cannot lose anything that is published. Also, it can be deactivated when you don't need it.
In conclusion, Facebook Messenger is the perfect option for those who enjoy communicating with friends. Best of all, the functions are increased with each update, and it allows you to take full advantage of the biggest network of all times.
More info
Package Name
com.facebook.orca
Requirements
Android 5.0+
Older versions
406.0.0.13.115
27-04-2023
403.1.0.17.106
07-04-2023
402.0.0.11.101
30-03-2023
More versions