5
|
|
25
|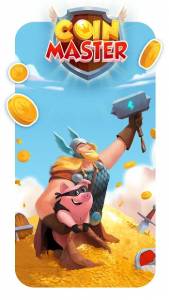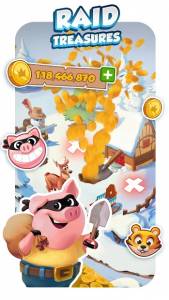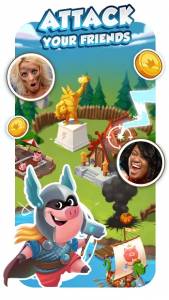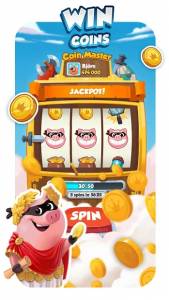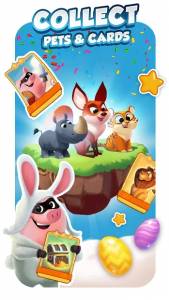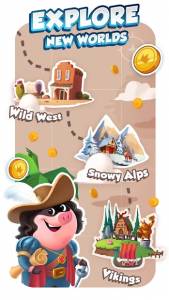 Description of Coin master
What is Coin Master?
Coin Master is an intense strategy game with elements of chance where you have to use a slot machine to obtain money. With this money you will be able to build a beautiful prosperous city and become the most famous person in the place.
The game is inspired by the Viking era, with small villages, especially you have to equip yours with wealth and weapons to defend yourself from enemies. It's designed with colorful graphics in high resolution. Besides, through Facebook you will be able to join your friends to plunder other players' villages and get more riches.
In every level you will find slot machines, which will give you hundreds of coins, necessary to increase your wealth. You have to pull these several times, as there is a limit, only then you will win the jackpot. Also, you will be able to travel in time to magical lands in order to be the best Viking of all.
The best of all is that you can install its latest version from our AppMarket today. It's an excellent strategy game where you will have the unique opportunity to be the richest Viking of all.
Become a famous Viking!
The mechanics of the game are very simple, in each level you will get slot machines, which you will have to spin and cross your fingers. The result varies, it can be coins, loot, shields and attacks towards other villages in order to loot them and become richer.
The use of this machine is limited, so you must make good use of the resources obtained. They are distributed in the different levels, where you must advance from one village to another by acquiring riches.
The riches allow you to build a fortified, beautiful and prosperous city. You will also obtain collectible cards that you can exchange with other players in order to find secret villages with many hidden riches. If you manage to conquer several of them, your rewards will exceed those of other players.
Also, when your wealth increases, you will be attacked by other villages, so you must be attentive and defend yourself with the weapons you get. In case you are robbed, you will have the chance to take revenge and take for yourself all their coins or treasures with your digging machine.
Apart from this, Coin Master gives you the opportunity to play online with other players from different parts through Facebook. You will be able to exchange cards to loot other villages and attack your enemies. Besides, you will meet other Vikings, share strategies and win many prizes.
Additionally, the game has options to improve the resources obtained in the slot machines. For example, you will be able to recharge the shields by making frequent spins in the machine, storing a maximum of three. In the case of coins, you must spend them quickly in the construction, otherwise you can lose them in attacks.
If you stay active in each play, you will receive coins and free spins, so you will go through as many villages as possible. If you invite friends to play with you, you will get 40 extra spins, perfect for earning lots of riches in the game's virtual community.
Increase your riches non-stop
Coin Master is smooth at all levels, with easy-to-use controls and elements. Its convenient interface is frequently updated by adding more valuable resources that will increase your fame and money throughout the area.
Other relevant features include:
Strategy gameplay mixed with elements of chance in a Viking environment.
You will get slot machines in every level that will give you coins, attacks and shields.
Coins will allow you to build an imposing and prosperous city.
It's a free game optimized for different mobile devices, with some in-app purchases.
It allows you to play online against other players via Facebook.
In summary, Coin Master is a fun game where you will have the opportunity to be a wealthy Viking and recognized throughout the village.
More info
Package Name
com.moonactive.coinmaster
Requirements
Android 5.0+