4
|
|
51
|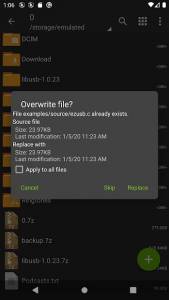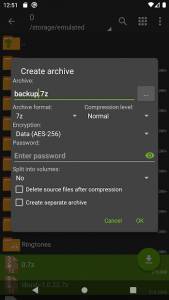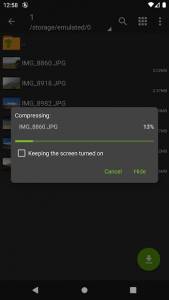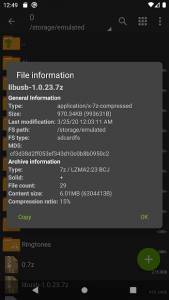 Description of ZArchiver
What's ZArchiver?
ZArchiver is a powerful file manager that allows you to manage the content stored on your mobile device and the SD card. Although most devices have a manager content pre-installed by default, this app is the perfect alternative when it comes to opening unusual formats.
Perhaps, what stands out about this app is the lack of an attractive interface or the design that other similar ones have. However, it makes up for this with excellent options and settings that make it easy to decompress and compress files on a tablet or smartphone.
Also, it is one of the few file managers that can split files into several parts using 7z or rar. Also, it allows you to view the inside of compressed content, extract a split file, or provide password protection.
By downloading this free app on your Android device, the performance of the app is assured. This is because it uses several processor cores to do its job safely and quickly. Best of all, it supports all kinds of formats, even those that are rarely used.
Manage compressed files from Android!
One of the most attractive features of ZArchiver is the way it works in managing the files on your phone. To start using it, you only have to download the latest version from our AppMarket. You will see that you can open the content you need no matter if it is in a compressed file.
Then, you can browse through the app to see all the files you have stored in the internal storage or on the memory card. If you want to save space or send a file, you can click long on any material and compress it. The options are the same as those provided by the computer.
Another function you may enjoy is to check the contents of an archive before extracting it to a specific folder. It is considered a useful tool for those people who constantly share content between the computer and the cell phone.
One of the limitations that can be found in this useful app is when creating ZIP files. The options available are 7z (7zip), bzip2 (bz2), ZIP, gzip (gz), XZ, and tar. However, the possibilities increase when the archive is edited as there is a wide variety of formats that can be opened.
Create compressed folders
ZArchiver is an excellent tool for the compatibility of formats. Besides, you can work with or without an internet connection, so you can compress, decompress, and manage the files at any time. Other desirable aspects of the app are the following:
It facilitates the compression and decompression of files in any format directly from the Android device. The size, shape, and dimension of the content is not a problem.
It allows editing files from storage by facilitating tasks such as adding, adding from one location to another, and even deleting.
It has the function to password protect any edited, received, or created file.
You can open files and view the content regardless of the format they are in.
If you want to enjoy an update, you can download ZArchiver PRO that includes new features and the possibility to change the theme from light to dark.
It can be downloaded on Android devices with version 4.0.
In conclusion, ZArchiver is a file manager that offers multiple functions to manage the files of your Smartphone. It is light, easy to use, and has exceptional performance. Best of all, it supports a variety of formats including the most important ones.
More info
Package Name
ru.zdevs.zarchiver
Requirements
Android 5.0+