5
|
|
8
|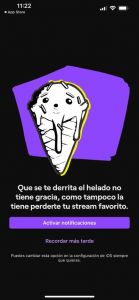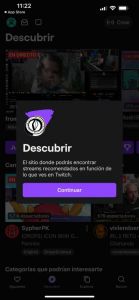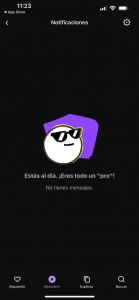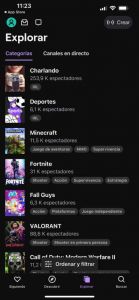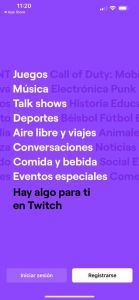 Description of Twitch
What is Twitch?
Twitch is the official application of the video platform of the same name, designed to broadcast real-time streams of your video games. It's an extensive virtual community where you will have the opportunity to interact with other players and watch their live streams.
It's an application available on Android that lets you watch thousands of broadcasts of your favorite video games. Here, you will learn new tactics while playing and you will be able to share with other users from different parts through the App's integrated chat.
Additionally, with Twitch you can monetize or earn real money while playing live and if other users watch you.
You have options to adjust the graphic quality of the video, so you will save mobile data when transmitting from your 3G connection. You can now download Twitch for free from our AppMarket.
Broadcast your games live
The goal of this application is to allow players from different parts of the world to record their games and share them online with other users in streaming quality. It has a menu organized by categories, so you can find those that are related to similar video games.
Also, the menu is easy to explore, with an intuitive operation. For example, in the center, you will see a slider with all recordings, accompanied by suggestions and recording channels. In the top bar you will find the following section with all the channel news and in explore are all those who are making live recordings. 
Additionally, in the left panel there are the lists of the channels you follow and another list with recommendations of live broadcasts. Then, to start using the App you have to register with a user account, set up your profile and go to the server to make your live recording.
It's very simple to do, you just have to log in and choose whether you will record video or audio only. Click on the button with the purple icon on the App and you will see an option that tells you to start broadcasting live. Click on accept and you will find a field where you must enter your data.
Then, you will see a list with the application servers, choose one close to your location and set the settings for your video. Once this is done, you will be broadcasting your games live on your channel. Make sure you set the camera's broadcast source, so that others can see you in real time.
Then, once your recording is ready, it will appear in the preference lists of other users, they will be able to watch it and provide comments. In the "friends" section are all those who follow you and through the chat you can exchange opinions with them, ask for suggestions and share strategies in related games.
The best platform for live streaming
A significant aspect of this application is that it has the Twitch Prime section, which is synchronized with Amazon Prime. Thanks to this, you can subscribe to this giant's shopping channel at no cost and you will be able to support other subscribed streamers as well. Likewise, you will have access to live recordings of featured video games, sports, music, cooking and more.
Other features of its latest version include:
Powerful live streaming platform for your favorite video games.
Organize videos by games, channels and broadcasters.
Integrates chat functions to share with other players.
You can follow several live broadcast channels at the same time.
Allows you to choose the graphic resolution when recording your games.
Features portrait or landscape mode when recording.
Option to share videos via email, text message or Twitter.
Contains interactive shows from live platforms such as Blizzard, Xbox, Sony and Riot Games.
It includes a dark mode, ideal for taking care of your vision in night transmissions.
In summary, Twitch is an excellent application to transmit live videos of your favorite games. It has tools to make your recordings the best and get the largest number of followers.
More info
Package Name
tv.twitch.android.app
Requirements
Android 5.0+